There's no denying the Brisbane apartment market has taken a beating in recent years. The crux of the problem being the completion of 21,900 apartments in 2016 and 2017 flooding the market with stock with a population that couldn't meet supply and a vast number of these developments being average in quality. This caused a wave of devaluation of the apartment market and a reduction in yield across the sector.
But times are changing.
QLD Governments Economic Development Queensland Agency has forecast that in the next 20 years South East Queensland is predicted be the same size as current Sydney which means it will grow by 1.5m- 5m. This growth will be underpinned by many factors including huge infrastructure development that will deliver more jobs and economic growth. To support this growth, 794,000 new dwellings will need to be built in the next 20 years to accommodate for SEQ's population boom. That's about 40,000 dwellings per year over the next 20 years and at least half of those will be built in Brisbane.
When we look to the future, we see that Brisbane is currently in an era of undersupply, especially considering there are less than 2,700 apartments scheduled for completion this year and only 900 potential (not confirmed) completions next year (2022).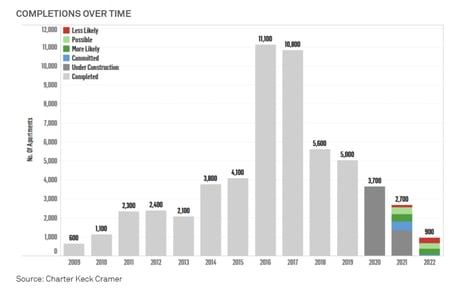 Additionally, we're already seeing a reversal in the pandemic-driven mass exodus to the regions with regional vacancy rates beginning to rise in the regions and CBD rentals dwindling and prices increasing. SQM Research shows that in March, Brisbane units asking rents rose 0.9 per cent from January. With so much investment going into the infrastructure of inner-city lifestyle arenas such as Southbank, Howard Smith Wharves and Queens Wharfe (lifestyle magnets for those wanting to live close to the "vibe" of the CBD) it's difficult to imagine the value of properties within the "bullet proof" 5km inner city radius ever dwindling, regardless of the "new normal" working conditions.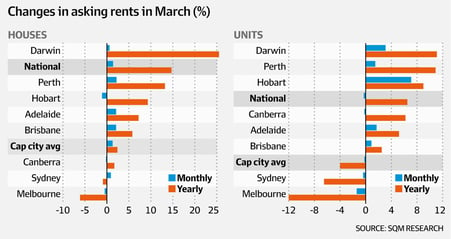 Developers have changed their mentality since the mid 2010's, putting design at the forefront of their planning in line with demand for more beautiful living spaces, amenities and larger floor plates. We're now seeing expectational quality and luxurious offerings in the apartment market with price tags that are not as extravagant as the dwellings themselves.
With demand for premium living spaces comes a growth in yield. Currently the average yield of an apartment in Brisbane is 5.2%, which well and truly covers repayments on current average investment interest rates on a 3 year fixed loan, sitting at around 2.62%.It's no wonder investors are returning to the market, it's a numbers game and we're currently looking at a cashflow positive state of affairs on investments not to mention the capital gains that are still forecast at around 10% for apartments by the end of 2022.
Michael Yardney summarises why now is the right time to jump into Brisbane's property market perfectly:
The biggest game-changer has been how quickly our economy recovered. We have experienced a V shape recovery where 90% of the jobs that disappeared have now been reinstated and 97% of mortgages that were put on hold last year are now being repaid.

This has led to significant increases in both consumer and business confidence.

Historically low interest

rates making borrowing as cheap as it has ever been and therefore holding investments or taking out a home loan very affordable

The RBA "promised" not to raise rates for at least 3 years, saying it will do everything it can to support jobs, businesses and boost our economic recovery.
The Senate is debating sweeping changes to remove overly restrictive lending rules. This will give more people access to easier credit, enabling them to borrow more and get into the market.

Federal Government spending

, initiatives, and infrastructure projects

State Government spending

and infrastructure initiatives
I currently have a number of new, cash-flow positive premium apartments on the market in Teneriffe, Highgate Hill and West End all within 2km radius of Brisbane CBD. These are minimum 3 bed, 2 bath, 2 car units in buildings offering beautiful and highly sort after amenities with an evaluated income that covers interest, body corporate fees, rates, insurance and leasing commission.
Teneriffe has seen some of the highest capital growth as a Brisbane suburb in the last 10 years and will continue to do so while Highgate Hill is within the highly sought-after Brisbane High school catchment offering a security on long term resale options as some buyers will pay up to $100k more to secure a property in a desirable school catchment.
I would love to show you through your next investment property. Make an appointment with me today.